This is an article for canon characters as well as semi-canon characters.
Official Characters
The Lion king
Simba
Simba is the king of the Pride Lands, the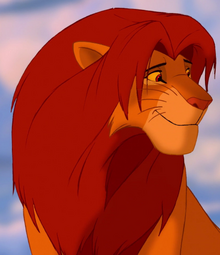 son of Mufasa, the nephew of Scar, the mate of Nala, and the father of Kiaraand Kion.
He is a supporting character in The Lion Guard: Return of the Roar and a recurring character in The Lion Guard.
Appearance
Simba is a fully grown lion of great size and stature, with a large dark red mane and tail tuft. Many of his physical features are similar to those of his father Mufasa, such as his square jaw and small, pointed ears. He is powerfully built and broad-shouldered. His fur is brownish-gold, while his muzzle, paws, and underbelly are creamy tan.
He has reddish-brown eyes, dark red-brown whiskers, and a pink nose. He strongly resembles his son, Kion.
Personality
As an cub,Simba was playful and always ready for an adventure with his best friend, Nala. He tried to see the best in everyone, even his uncle Scar. At times, he could be a show-off and arrogant, and boasted that he will be the greatest king ever, which often got himself and Nala into danger. In spite of this, he came to see the fault in his actions and always learned from his mistakes.
As an adolescent, Simba picks up a happy, carefree lifestyle, thinking nothing of his responsibilities back home. In addition, Simba's vocabulary changes moderately (as he now says "Father" instead of "Dad" and "Scar" instead of "Uncle Scar"). In the jungle, he develops somewhat grotesque habits, burping and eating bugs alongside his lazy companions. No longer the respected prince of the Pride Lands, Simba becomes sedentary and stubbornly refuting of his past life. 
Having been tainted in mind by his well-meaning friends, Simba no longer sees the need to help others and would rather lock himself away in bliss than face reality.
Despite his guilt-ridden conscience, Simba is forced into maturity when he has to face his past, holding himself accountable to the land he once swore to defend. Once accepting of his duties, he becomes a new character, stronger in will than before. Unlike the old Simba, who would rather avoid an argument, this new Simba does not tolerate being bullied and refuses to stand for abuse, being particularly defensive of his mother. When challenged, Simba becomes rough around the edges, determined to have his way and unwilling to stand for compromise. No longer an innocent cub, he is brave when he has to be, standing up for his land and his pride.
Once  a full-grown adult and a father, Simba has matured to a new level, now totally fixated on his duties as a king and a father. For all his benevolence and inherent goodness, Simba is not without fault, as he is overprotective of his daughter Kiara, willing to break a promise to her in order to keep her safe. In this way, Simba shows that he does not fully respect his daughter, seeing himself as the older and wiser pride member. Thinking himself to know better, he often becomes blind to the outside world, focusing only on his family and their safety. In doing so, he comes to harm those around him. He also is protective over his son, Kion, even doubting his choices for the new Lion Guard.
History
Simba is born to the king Mufasa and his mate Sarabi in the Pride Lands. As a cub, he plays with his friend Nala and receives lessons from his father Mufasa about the Circle of Life and being a king. After his uncle Scar kills Mufasa, Scar tells Simba to run away. Simba does, eventually arriving at the Jungle Oasis, where he meets Timon and Pumbaa. They teach him about "hakuna matata", which means "no worries". He grows up in the jungle, eating bugs and singing about his worry-free life.
Eventually, Nala arrives in the jungle and chases Pumbaa. She encounters Simba, and the two reunite. They fall in love during the song "Can You Feel the Love Tonight". Simba later returns to Pride Rock, where he defeats Scar and takes his rightful place as king of the Pride Lands, with Nala at his side.
They have two cubs, Kion and Kiara. Kiara ventures off to the Outlands one day, where she meets Kovu, an Outsider cub. After a tense encounter with Zira, both cubs are returned home. Simba is angry at first, but soon forgives Kiara. Kion became leader of the Lion Guard, and Simba is angry when he chooses a cheetah hippo, egret, and honey badger to be the other members. However, Simba soon comes to accept the new Lion Guard after they successfully thwart Janja and his clan. He is involved in a few of Kion's adventures, usually by giving advice and once by leaving the Pride Lands for a funeral, leaving Kiara in charge of the Pride Lands.
When Kiara, now an adult, is saved by Kovu, Simba is reluctant to let the former Outsider enter his pride. He is furious when it appears that Kovu has betrayed him, and promptly exiles him. Shortly after, Zira invades the Pride Lands with the Outsider lionesses. The Pride Landers fight back, resulting in the death of Zira. Simba then accepts Kovu, Vitani, and the rest of the Outsiders into his pride.
Voice Actors
Jonathan Taylor Thomas (cub; The Lion King)
Matthew Broderick (adult; The Lion King, singing; The Lion King II: Simba's Pride, The Lion King 1½)
Jason Weaver (cub singing; The Lion King)
Joseph Williams (adult singing; The Lion King)
Evan Saucedo ("The Morning Report"; The Lion King)
Cam Clarke (singing; The Lion King II: Simba's Pride, The Lion King's Timon & Pumbaa, Circle of Life: An Environmental Fable, adult; Kingdom Hearts II)
Matt Weinberg (cub; The Lion King 1½)
Rob Lowe (The Lion Guard: Return of the Roar, The Lion Guard)
Scott Irby-Ranniar (cub; original actor, The Stage Musical)
Jason Raize (adult; original actor, The Stage Musical)
Jonathan Taylor Thomas (cub; Kingdom Hearts II)
Close Relations
Mother: Sarabi
Father: Mufasa
Paternal Uncle: Scar
Paternal Grandparents: Ahadi and Uru
Paternal-Great-Grandfather: Mohatu
Mate: Nala
Sons: Kopa and Kion
Daughter: Kiara
Son-in-law: Kovu
Mother-in-law: Sarafina
Trvia
In Swahili, 'simba' means 'lion'.
In some concepts, Simba is shown with blue eyes.
When the animators were drawing adult Simba, they wanted a little twist for his appearance and personality to be like his voice actor Matthew Broderick.
Simba is the first animated Disney character to have a villain as a biological relative, followed by Hercules.
Simba's adult mane was supposedly inspired by Jon Bon Jovi's hair.
Nala
Nala is the queen of the Pride Lands, Simba'smate, the mother of Kiara and Kion, the daughter of her father, and the daughter-in-law of Mufasa.
She is a supporting character in The Lion Guard: Return of the Roar and a recurring character in The Lion Guard.
Appearance
Nala is a full grown lioness with a dark tawny coat, pale tawny muzzle and underbelly, turquoise eyes, and a very dark pink nose. The tuft at the end of her tail is brown. She is built somewhat more narrowly than Simba, and is slightly shorter. Unlike most lions, her paws are not paler than her primary fur color. In addition, the area between her eye and her eyebrow is paler than this color rather than darker. Nala has slender dark brown eyebrows. Unlike Simba, she has colorless paws. Her eyebrows are dark brown and thin,
Personality 
As a cub, Nala is playful, spirited, and spunky. She and Simba are best friends, and the two are nearly inseparable. Unknown to them, they are betrothed at an early age, and both agree that friends marrying each other is too weird once they discover this fact.
As a young adult, Nala matures into a determined and assertive young lioness. Simba remarks that her words remind him of his wise father's, albeit in a derogatory manner. In the sequel, Nala has become much more mild-mannered and motherly. She acts as the voice of reason to Simba, who is now being very protective of Kiara, and reminds him that their daughter Kiara would be fine. She also is less judgmental than Simba, and is often able to persuade him to have more faith in their cubs.
History
Voice Actors
Niketa Calme (cub; The Lion King, The Lion King II: Simba's Pride, The Lion King 1½)
Moira Kelly (adult; The Lion King)
Laura Williams (cub singing; The Lion King)
Sally Dworsky (adult singing; The Lion King)
Gabrielle Union (The Lion Guard: Return of the Roar, The Lion Guard)
Kajuana Shuford (cub; original actress, The Stage Musical)
Heather Headley (adult; original actress, The Stage Musical)
Vanessa Marshall (Kingdom Hearts II)
Close Relations
Mate: Simba
Mother: Sarafina
Father: Nala's Father
Daughter: Kiara
Sons: Kopa and Kion
Son-in-law: Kovu
Mother-in-law: Sarabi
Father-in-law: Mufasa
Scar
Scar is the main antagonist of The Lion King. He is the former king of the Pride Lands and the brother of
Mufasa.
Appearance
Thin and slender, with sharp features and skinny legs, Scar is the physical opposite of his brother. He is taller than the lionesses in the pride, though shorter than Mufasa. His movements are all sleek and snakelike; he was intentionally designed this way. He has burnt rusty orange fur, with pale tan areas on his paws, muzzle, and underbelly. His eyes are bright green. Scar's narrow nose and sharp claws are black. A pink scar runs through his left eye.
Personality
Scar is devious and cunning, thinking up schemes to secure himself power. He shies away from physical challenges that he knows he cannot win, but will nevertheless fight when he must. He goes to any lengths to achieving what he wants, even allying himself with hyenas, which he finds to be idiotic. He is power-hungry and persistent, but is a poor authority figure, as he cares not for the lands or lionesses he rules. Once he has what he wants, Scar becomes indolent and unwilling to solve the issues ravaging the Pride Lands. He believes that kings may do whatever they like, and has a tendency to blame others when things go wrong rather than accepting the truth.
History
As a cub, Scar became the leader of the Lion Guard. As he grew older, he grew jealous, believing that he should rule the Pride Lands instead of his older brother Mufasa. When Scar, said to be named Taka at the time, is older, he tries to trick Mufasa out of being future king, but fails, left with nothing but the scar that is to give him his name. He eventually kills his Lion Guard using the Roar of the Elders when they refuse to help him murder Mufasa.
Scar resides in a cave in the Pride Lands, where he catches a mouse. The majordomo Zazu arrives, announcing the impending presence of Scar's brother, the king Mufasa. Scar attempts to eat Zazu, but Mufasa arrives and orders Scar to drop him. After a terse exchange between the two brothers, primarily regarding Scar's choice not too attend the presentation of Mufasa's son and the future king; Simba, Scar leaves the cave.
Scar is later approached by young Simba, now old enough to walk about on his own, who tells him about a lesson Mufasa gave him. Irritated, Scar makes a few dry remarks before "accidentally" letting slip that the one place Mufasa doesn't want Simba to go is an Elephant Graveyard. He then flatters Simba and requests that he keeps the exchange a secret. Scar soon meets up with his hyena followers and sings the musical number "Be Prepared" to explain what lies in store for them; including Mufasa and Simba's deaths and not going hungry.
Scar later takes his nephew to the Gorge under the pretense of a surprise. He refuses to tell Simba what the surprise is, and advises him to work on his "little roar" before traveling up the gorge and making himself visible to three of his hyena minions. They begin and wildebeest stampede, and Scar rushes off to alert Mufasa. He tells his brother that Simba is down there, and the two, along with Zazu, urgently run to the gorge. Scar scans the stampede along with Mufasa, then watches as his brother dives down to save Simba. Now alone with Scar, Zazu decides to fetch help in a panic, and Scar knocks him into the side of the gorge. When Mufasa begins climbing up the gorge, having gotten Simba to safety, he asks Scar for help. Scar leans down, thrusts his claws into Mufasa's paws and tells him "Long live the king" before flinging him off of the cliff, resulting in Mufasa's death.
Scar then approaches a grieving Simba, who is crying by his father's side. He asks what Simba has done, and though he notes that nobody ever means for these things to happen, the fact remains that Mufasa is dead, and it is Simba's fault. He wonders what Simba's mother will think, then advises Simba to run away and never return. Simba obeys, dashing through the gorge, and the hyenas that provoked the stampede emerge from behind Scar. He orders them to kill Simba.
Scar returns to Pride Rock, bearing the news of Mufasa and Simba's deaths. In the dark of the night, he mourns for his lost brother and nephew, but announces the dawning of a new era. His hyena followers emerge, and Scar ascends Pride Rock as the new king. During his reign, Scar traps Zazu in a rib cage and forces him to sing songs. He cares not for the lack of food that is plaguing the Pride Lands, and become enraged at anyone who dares to speak Mufasa's name. He soon calls the lioness Sarabi forward, demanding to know why the hunting party is failing to return with prey. He insists that it can be found despite Sarabi's claims that the herds have moved on. Finally, he strikes her with enough force to knock her over. A fully grown Simba makes himself visible, surprising Scar, who initially believes him to be Mufasa. He shoots the hyenas that were supposed to kill Simba a glare before gesturing to the rest of the clan, explaining to Simba that they see him as king. The lioness Nala insists that Simba is king, and Simba threatens to fight him.
In response, Scar slinks around Simba, dropping hints about Mufasa's death. Simba informs him that such tricks will not work, but the lionesses' curiousity is sparked. Scar goads Simba into confessing that he killed Mufasa and forces Simba to back to the tip of Pride Rock, until he is finally gripping the edge with his forepaws. Scar notices the resemblance between Simba currently and Mufasa before he died, and whispers into Simba's ear that he killed the prince's father. Furious, Simba attacks Scar and pins him, making him admit to his crime. The hyenas attack, allowing Scar a chance to escape, but Simba follows, trapping him on Pride Rock. Scar begs for mercy and blames the hyenas, deeming them "the enemy", but Simba growls that everything Scar told him was a lie. Scar asks what Simba intends to do with him, and Simba reveals that he does not plan to kill him, as he is not like Scar. Scar discovers that Simba wants him to flee and never return, and responds by attacking him. Simba eventually flings him off of Pride Rock, where is he devoured by the hyenas, who feel that he betrayed them.
After Scar's death, a devoted follower of his, Zira, raises his chosen heir, Kovu. He is mentioned multiple times by Kovu, Zira, and Simba, and one night, Scar is featured in a nightmare of Simba's. After Kovu is exiled, he gazes into water, where he sees Scar as his reflection.
Voice Actors
The Lion King (1994) - film - Jeremy Irons (speaking and partial singing), Jim Cummings (additional singing)
The Stage Musical (1997) - (musical) - John Vickery (original actor)
The Lion King II: Simba's Pride - (1998) - (film) – Jim Cummings
Kingdom Hearts II - (2005) - (video game) – James Horan
The Lion King: Bloopers & Outtakes - (2011) - Jeremy Irons
Sorcerers of the Magic Kingdom - (2012) - James Horan
Close Relations
Father: Ahadi
Mother: Uru
Brother: Mufasa
Sister-in-law: Sarabi
Nephew: Simba
Great-Nephews: Kopa and Kion
Great-Niece: Kiara
Shenzi
Appearance
Personality
History
Voice Actresses
Sarafina
Sarafina is a minor character in the The Lion King. She is the mother of Nala.
Appearance
Almost identical to her daughter in appearance, Sarafina is long-bodied and lithe with strong limbs and a groomed pelt. Her fur is tawny, while her muzzle, paws, and underbelly are all paler in color. The tip of her nose appears to be a shade paler than her main pelt, with both her upper and lower eye shades being light in color. Her paws are the same color as her primary fur color, and her eyes are apple-green.
Personality
Though Sarafina's personality is not explored in the film, it is developed in books inspired by the film, which reveal her to be a protective mother with a good amount of sense and resourcefulness. She can be fairly easygoing with her daughter when times are good, but when danger runs rampant, Sarafina is sure to be guiding Nala to safety.
History
Voice Actress
Zoe Leader (The Lion King)
Timon
Timon is a meerkat in The Lion King and The Lion King II: Simba's Pride. He is one of the two protagonists in The Lion King 1½ and The Lion King's Timon and Pumbaa, as well as a supporting character in The Lion Guard.
Appearance
Tall and thin, Timon is accustomed to digging and scurrying, a lifestyle which has made him into a physically fit tunneler. His fur is pale mahogany, broken only by five darker stripes on his back and cream hair on his underbelly and muzzle. He has longer fur on his elbows and chest, but it is for the most part short and smooth. Timon has a dark brown tail tip, ears, and toes, with his round, glossy nose being even darker in color. The hairs on his head are relatively short and scruffy, bright red in color. Like most meerkats, his eyes are black, though he has been pictured with brown irises.
Personality
Timon lives by the philosophy 'hakuna matata', meaning 'no worries'. He feels that if the word "turns its back on you", one should turn their back on the world. He loves grubs, particularly Utamu.
Though Timon lives a careless life, he nevertheless is brave and loyal, willing to serve as live bait for a clan of hyenas in order to help his friend Simba. He thinks of things in a relatively practical manner, and has adopted two different young animals only because he believes them to be or have potential to be useful. He rarely leaves the side of his pal Pumbaa, and is willing to risk his life in order to save him. Nevertheless, he has a tendency to dismiss Pumbaa's ideas and then present them as his own. He is wisecracking and somewhat mischievous.
History
Voice Actors
Close Relations
Appearances in Fanfiction
Zazu
Zazu is a supporting character in The Lion King franchise. He serves as the majordomo to the Lion King.
Appearance
Zazu is a blue red-billed hornbill with a white underbelly and a large, smooth, glossy scarlet and gold beak. His eyelids are sky blue, and he has bushy black eyebrows. Darker blue feathers are present at the tips of his tail and wings, and three individual darker blue feathers stick up from the back of his head. Zazu has large eyes and a small body in comparison to his head.
Personality
As majordomo to King Mufasa, his proper, dignified, nervous, and easily-rattled personality is the polar opposite in temperament of Simba and Nala. He tends to panic during emergencies, such as the wildebeest stampede. As a youngster, Zazu was incompetent, talkative nuisance, but soon learns to distinguish between what's real news and what's not, though he's not above some gossip. Despite his size, he's rather snobby and looks down on lowlifes, and is not afraid to use his dry, biting wit, and is a very loyal friend and servant to the royal family. However, Zazu also has a joking, somewhat morbid sense of humor that occasionally surfaces. He is proud to serve and report to the ruler of Pride Rock.
History
Zazu is present at the presentation of the future king, Simba. He goes to the king's brother Scar's cave to announce Mufasa's impending presence; and Mufasa thankfully arrives just before Scar eats Zazu. The hornbill later gives Mufasa the morning report, then goes on to take young Simba and Nala to the Watering Hole. They give him the slip, but he soon catches up to him.
After a close call with some hyenas, he takes Nala home. Later, Zazu hears of a stampede in the Gorge, where Simba currently is. He flies over to the terrified cub and assures him that his father is coming. However, Mufasa winds up dead, and according to Scar, Simba is, too. Scar takes the throne and traps Zazu in a ribcage, forcing him to sing songs as the hyenas run rampant through the Pride Lands, much to Zazu's displeasure. Simba soon returns and reclaims the throne as his companions free Zazu, and Zazu watches in awe as the new king roars.
When Simba's cub Kiara arrives, she is eager to explore. When her father mentions the Outlands, Zazu notes that there is nothing there but treacherous Outsider lions, and Simba agrees. He locates Simba's son Kion when need be, and accompanies Simba to an elephant funeral, reassuring him and teaching him the elephant language.
Zazu later assures Simba that Kiara will be fine on her first hunt just before Simba notices a wildfire. He is sent ahead to locate Kiara, and, spotting an Outsider named Kovu saving her, reports back to Simba. Kovu requests that he may join the pride, and Zazu notes that royal protocol calls for all debts being paid, but feels that in Kovu's case an exception may be made. Simba is later ambushed by Outsiders and wounded, and Kiara sends him to find help. But the trouble isn't over; Zazu soon reports back in a panic that Outsiders are attacking. The prides end up uniting, with Kovu and Kiara presumably marrying each other. Zazu covers himself as Timon and Pumbaa burst into tears next to him.
Voice Actors
Rowan Atkinson (The Lion King)
Jeff Bennett ("The Morning Report"; The Lion King, The Lion Guard)
Edward Hibbert (The Lion King II: Simba's Pride, The Lion King 1½)
Michael Gough (The Lion King's Timon & Pumbaa)
Geoff Hoyle (The Stage Musical)
Close Relations
Mother: Zuzu
Banzai
Banzai is a member of Shenzi's Clan. He is a supporting antagonist in The Lion King.
Appearance
Banzai displays the typical anatomy observed in an adult hyena. He is the closest of the trio to matching the rest of the clan in appearance, having the same body shape, hairless head, and receding black mane. Banzai has black eyes with yellow irises.
Personality
Banzai's personality contrasts greatly with that of Scar, as he serves as a less intelligent and serious companion. His comical nature manages to shine through in every situation, which exposes his need for a good laugh, and his inability to take Scar's plot seriously.
However, when driven by survival needs, such as hunger or power, Banzai can be dangerous, prone to blindly following the orders of others. Though often used for jokes and stupid antics, Banzai's high energy is more disastrous than it seems.
Despite his more dangerous side, Banzai assumes the role of a follower, rarely taking action on his own. He works in the background, a crony, always following either Scar's or Shenzi's orders. Of all the hyenas, Banzai suffers the most, both physically and socially, often serving as the butt-end of the trio's teasing.
History
Voice Actors
The Lion King - (1994) - (film) - Cheech Marin (speaking and singing)
The Lion King's Timon & Pumbaa - (1995–1999) - (TV series) - Rob Paulsen
The Lion King - (1997) - (musical) - Stanley Wayne Mathis (original actor)
The Lion King 1½ - (2004) - (film) - Cheech Marin
Kingdom Hearts II - (2005) - (video game) - Cheech Marin
Sorcerers of the Magic Kingdom - (2012) - (attraction) - Cheech Marin
Pumbaa
Pumbaa
Pumbaa is a male warthog in The Lion King, The Lion King II: Simba's Pride, The Lion King 1½, The Lion King's Timon & Pumbaa, and The Lion Guard.
Appearance
Pumbaa has a smooth russet red coat with a mane of short black hair sprouting from his head and running down his neck. The tuft of hair at the end of his tail is also black in color. He is a large, well-built animal with a huge, round lower jaw and two ivory-colored tusks protruding from his upper jaw. Pumbaa's nose and inner ears are pink, and his small eyes are black with yellow sclerae. 
Personality
Due to his friendly, loyal, and protective personality, Pumbaa is generally regarded as a very likable character. However, he displays childlike naivety which is sometimes confused for stupidity. He does, in fact, come up with some intelligent plans and insightful ideas, which Timon rapidly claims as his own.
Pumbaa is also kind and caring, as shown when he, unlike Timon, takes pity on Simba and is quick to offer his assistance to the young cub. In The Lion King II: Simba's Pride, he jumps into a rather shallow body of water to save a supposedly drowning Kiara and offers assistance to a badly injured Simba, carrying him all the way back to Pride Rock after an unexpected ambush with the Outsiders. In addition, Pumbaa appears to be polite to those who are friendly, as shown when he greets Nala right after Simba introduces him to her, despite the fact that Nala had tried to eat him a few minutes earlier. Notwithstanding, he expects respect from his enemies, which indicates when he attack Banzai after he is addressed on a "pig."
History
When he was a young warthog, Pumbaa struggled socially due to his flatulence troubles. However, he later met Timon, and the two became friends. One day, they encountered an exhausted lion cub named Simba. They brought him to the Jungle Oasis and taught him about "hakuna matata"("no worries"). They introduced Simba to a diet of insects and grubs, which he grew up on.
One day, Nala arrived in the jungle and chased a terrified Pumbaa. Timon tries to help Pumbaa, but ultimately it is Simba who comes to the rescue. However, Timon and Pumbaa are downhearted after Nala and Simba fall in love. Timon tells Pumbaa that Simba is doomed, and the two of them burst into tears.
They later accompany Simba back to Pride Rock, where they distract the hyenas so that Simba and Nala's presence would not be detected. Simba's evil uncle Scar is defeated, and Timon and Pumbaa stay with their pal in the Pride Lands.
Voice Actor
Ernie Sabella 
Close Relations
Friend: Timon
Adoptive Sons: Simba and Bunga
Sarabi
Sarabi is the mate of Mufasa and the mother of Simba.
Appearance
Personailty
History
Voice Actresses
The Lion King (1994) - film - Madge Sinclair
Close Relations
Mate: Mufasa
Son: Simba
Daughter-in-law: Nala
Grandsons: Kopa and Kion
Granddaughter: Kiara
Brother-in-law: Scar
Mother-in-law: Uru
Father-in-law: Ahadi
The Lion King II  
Kiara
Appearance
Personality
History
Voice Actresses
Close Relations
Kovu
Appearance
Personality
History
Voice Actors
Close Relations
Nuka
Appearance
Personality
History
Voice Actors
Close Relations
Vitani
Appearance
Personality
History
Voice Actresses
Close Relations
Zira
Appearance
Personality
History
Voice Actresses
Close Relations
The Lion King 1 1/2  
Ma
Appearance
Personality
History
Voice Actresses
Close Relations
Uncle Max
Appearance
Personality
History
Voice Actors
Close Relations
Ad blocker interference detected!
Wikia is a free-to-use site that makes money from advertising. We have a modified experience for viewers using ad blockers

Wikia is not accessible if you've made further modifications. Remove the custom ad blocker rule(s) and the page will load as expected.