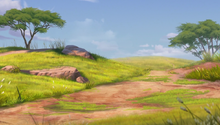 The Back Lands are a location in The Lion Guard.
Physical Attributes
The Back Lands serve as one of the borders of the Pride Lands. They are composed of fairly open spaces, with sloping terrain and several groves of trees, as well as a view of a distant mountain range. Within their borders, the Back Lands house a stretch of woodlands called Mirihi Forest.
History
The Trouble With Galagos
Mapigano bullies another leopard named Badili out of his tree, and Badili is forced to flee. He winds up in the Pride Lands, but when the Lion Guard find him, he is forced to return home with them escorting him.
Nervously, Badili makes multiple excuses on the way back to his former home in the depths of Mirihi Forest, which causes Kion to become suspicious. When Badili leaves them, Kion and the Guard stay behind, spying on him from a nearby bush. They watch as Mapigano reveals himself, frightening Badili and mocking him with the intent of kicking him out once and for all. The Lion Guard intervene at this point, and drive Mapigano out by using his own tactics on him. Badili thanks the Lion Guard and joyfully runs back to his tree.
However, Mapigano soon returns and pushes Badili out again, and Badili returns to the Pride Lands. This time, the Lion Guard decide to train Badili in strength, speed, bravery and fierceness, raising his confidence in the process. Badili returns to Mirihi Forest with newfound energy, and approaches Mapigano. Whilst Mapigano soon breaks his spirit, Badili manages to recompose himself and drive out Mapigano by intimidating him. The Lion Guard congratulate Badili, who thanks them again for their assistance. The Guard then leave the leopard to his home territory, with Badili asking the Lion Guard to apologize to the galagos he caused problems for back in the Pride Lands.
List of Species
Bat eared foxs
cape buffalos
cape dogs
Honey badgers
Harrier Hawks
Lions
Leopards

Badili
Akida
Hasa
Njeri
Mapigano
Makucha

servals
Locations
Ad blocker interference detected!
Wikia is a free-to-use site that makes money from advertising. We have a modified experience for viewers using ad blockers

Wikia is not accessible if you've made further modifications. Remove the custom ad blocker rule(s) and the page will load as expected.